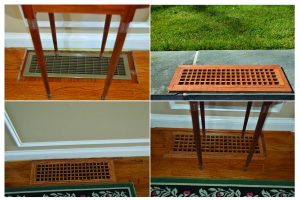 Interior finish carpentry in Philadelphia & Main Line is among the many quality services provided by John Neill Painting & Decorating.
While the first thing you may notice when walking into a room is the wall color or a piece of artwork, if you've lived in the house for some time, you're more likely to notice the little things that aren't "quite right." In this case it was a few vents on the floor that stuck out like a sore thumb, detracting from an otherwise beautiful room. And after growing tired of looking at them any longer, this Haverford homeowner gave us a call to come up with a solution.
After measuring and purchasing solid wood replacement vents our team of carpenters and painters cut them down to size and applied stain to match the existing finish of the hardwood floors before installation. Now they blend much more seamlessly with the space. Sometimes it's the small details that make the biggest difference.


---