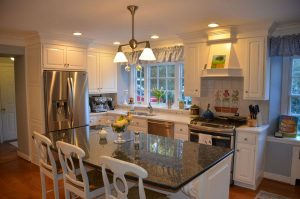 Kitchen cabinet refinishing is a great way to spruce up your kitchen and is another high-quality service offered by John Neill Painting & Decorating to home owners and businesses throughout Philadelphia and The Main Line.
If you've been contemplating remodeling your kitchen, but don't want to undergo a six to eight week renovation, refinishing your kitchen cabinets may be just the solution you've been looking for. Here are our top five facts about kitchen cabinet refinishing, and if you have additional questions, we're always a phone call or email away.
1. Refinishing your cabinets is much cheaper than replacing them (counter tops and appliances stay in place), and can usually be completed in 1-2 weeks.
2. You can choose any color you like, and a high quality oil-based paint will ensure a beautiful and durable finish.
3. Cabinet drawers and doors are removed and painted off site, minimizing the odor as well as the disruption of having craftsmen in your home for an extended period of time.
4. You're kitchen will still be functional while the bulk of the work is being completed.
5. All doors and drawers will be realigned when reinstalled and the hardware can be replaced as well to truly change the look and feel of your kitchen.


To see more samples of our work, please visit the Painting & Decorating page and scroll down for Kitchen Cabinet Refinishing.
---