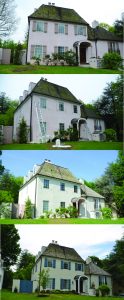 After 41 years in business, there are still times when we're completely amazed at how much something as simple as a color change can transform a house. We are sometimes asked, can stucco color be changed? Absolutely! Take a look at this exterior stucco color change job we did in Haverford, PA. The first step in this process was to remove the shutters for repair and painting in our shop. Next the house was pressure cleaned to remove all dirt and debris to create a clean surface for the new stucco color. Thirty gallons of StoCoat® Lotusan® exterior masonry coating* were applied to the exterior of home, and once complete the shutters were reinstalled. With updates to the exterior landscaping as well, this home has undergone a complete makeover in just under a month and is ready to welcome family and friends all summer.


* John Neill Painting only uses the finest products available for each substrate that is to be painted. For stucco we use StoCoat® Lotusan® Lotus-Effect® technology.
Dirt particles are unable to hold on the leaves of the lotus plant and simply flow off with the rain droplets that fall on the plant. The Lotusan® exterior coating possesses a high water-repellent surface similar to that of a lotus leaf. Its microstructure has been modeled on the lotus plant to minimize the contact area for water and dirt. The surface additionally offers enhanced hydrophobic properties.
 The problem with conventional exterior paints is that the soiling of the façade becomes increasingly visible over time. On weather exposed sides in particular, microorganisms find an ideal environment for colonization in the form of adequate moisture and nutrients from the dirt deposits. With the Lotus-Effect® technology on façades, water and dirt flow off immediately. The façade remains dry and attractive.
StoCoat® Lotusan® featuring a pronounced self-cleaning effect:
Very high level of water and dirt repellence after drying of the coating.
Highly resistant to soiling, pronounced self-cleaning effect.
Resists the growth of mold, mildew, and algae.
Excellent weather and chalk resistance, UV-stable.
Ideal for new construction and recoat projects over stucco and fiber cement board substrates.
High water vapor permeability.
Available in virtually any color.
---