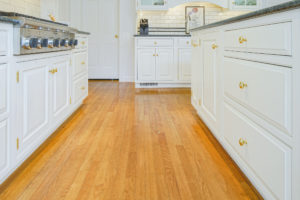 The truth is, that the kitchen is the gathering place and is the hub of the house. It's where kids come for a snack when they come home from school. It's the place where everyone congregates at parties, where the meals are made, secrets shared, late night drinks imbibed.
Kitchen Makeover Tips
When there is so much activity in one place, it's not unreasonable to think that it gets more wear. Here are some great kitchen makeover tips that can bring your kitchen back to life without having to do a complete kitchen remodel.
The finish on your cabinets, even at the highest level, will start whispering to you that a new coat of paint might be in order.
You won't have to redo the whole kitchen, but kitchen cabinet painting and refinishing will give you the sense that you have a brand-new kitchen.
Making Your Kitchen Look New
Giving your cabinets a new look means removing all cabinet doors and drawers and marking their locations. These are then carefully wrapped and transported them to the paint shop. This is a controlled environment containing a spray booth. Painting this way gives your cabinets a finish that looks brand, spanking new. During the period of spray painting, the surrounds will be painted by prior appointment s. This will be done in time for everything to be put back together. Once done, you'll feel like you have an entirely new kitchen again and a new hub of the house.
Custom Kitchen Cabinet Doors
Another way to breathe new life into your kitchen is by replacing old cabinet doors with new custom doors. The glass pane kitchen cabinet doors pictured below gave the kitchen an entirely different look and feel and really brightened up the space.
Don't miss our next post about using color in the kitchen.
Visit our Painting Services page to see what John Neill Painting & Decorating can do for you!
Our Service Areas include: Philadelphia, The Main Line, Center City Philadelphia, Bala Cynwyd, Gladwyne, Narberth, Penn Valley, Merion, Wynnewood, Ardmore, Haverford, Bryn Mawr, Villanova, Wayne, Devon, Berwyn, Paoli, Malvern, Chester Springs, Newtown Square, West Chester, Blue Bell, Gwynedd, Jenkintown, Rydal, Meadowbrook, and Chestnut Hill.
---