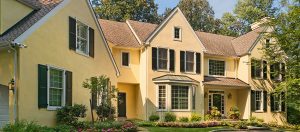 The Second Step in Successful Home Maintenance: An Exterior Home Inspection by John Neill Painting

Your house is most likely one of your biggest investments, and to ensure that it remains in good condition we recommend yearly inspections to keep repairs to a minimum.
Below are some areas to pay particular attention to when conducting your inspection. Look for signs of pealing paint, general wear or wood rot, keeping in mind that horizontal surfaces will wear more rapidly.
– Tops of window sills
– Decks
– Bases of columns and posts
– Base of porch
– Base of garage doors
If you are in the Philadelphia area or The Main Line, give us a call at (610) 664-5555 to see how John Neill Painting & Decorating can help!
---